In memory of Steven "Steve" Besharah 1954-2021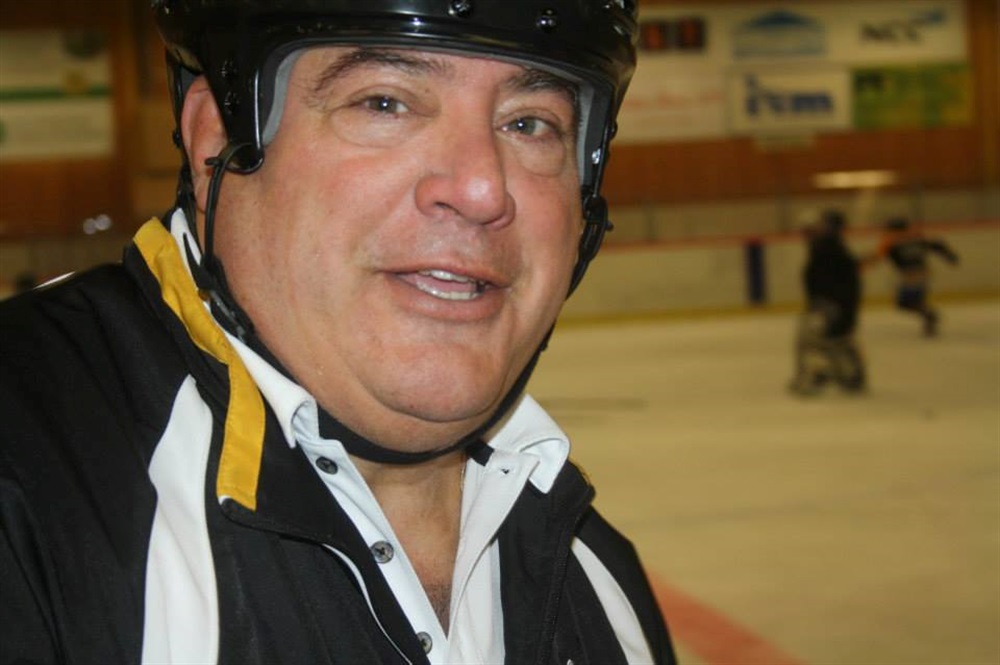 Steve at the ice in Ljusne
Steven Besharah 1954-2021.
Writing these words in English, so Steve´s family and friends can read.
Late in the evening on Friday the 5th of Nov I got a message from Steve´s companion, Jared Carden, saying that Steve had passed away in the evening on Thursday.
I first met him at Eastertime 2009. Me and Lennart Gard was in Ottawa with a juniorteam from Söderhamn/Ljusne HC. Our first match was versus Steve´s team. We were invited to a pizza dinner by Steve and his staff. He asked us if needing any help during our stay. After that he joined us. Organizing excursions and events, a friend with a school bus took us to places and we visited his home. That´s how an almost twelve year long relationship started.
Lennart invited him to Ljusne and in August that same year he came and brought his mother Anne. He held some practices with the players he had met and among other activities tested fermented herring. No problem for Anne!
From 2010 till 2018, he was involved in The Summer Hockey Camp in Ljusne. Cooperating with the organization, bringing Canadian coaches and the last 3-4 years he was accompanied by youth teams from the Ottawa area. Altogether with players, coaches and parents each summer from 2015, 30-35 Canadians were guests in Ljusne!
The exhibition games were just great events! National flags and National anthems sung live by local youngsters! Many events, connected to the matches and parties with everyone involved, in order to unite Swedes and Canadians, took place! Ossum!
Steve had so many friends here. He established special relations to my family, the families of Lennart Gard, Carin and Christer Gustavsson, Lena and Henrik Karlsson and Eva Lind at the restaurant. The last years to Mikael Krantz and Erik Sjödin as well.
He was looked upon as a generous and nice person. He talked to all kids and youngsters and brought presents to every participant each year! Wanted to "see" everyone. Think the most important for him wasn´t hockey, but to get to know people and and get new friends.
Once he spontaneously said: -"I could live here!"
His presence in Ljusne was welcomed by the the citizens. Expressions like "Hope Steve and his guys will come next summer too" were common.
In 2018 Steve asked me to help him run his camp and bring a Swedish touch including coaches and players. So in July I was accompanied by Martin Nilsson from the Timrå organization and my grandson Filip as coaches and David Gustavsson, Liam Karlsson, Kalle Winlöf, Linus Lundstedt and Albin Lundstedt from S/L HC. It took place in one of Ottawa Senators facilities. What an experience for all of us!
We finalized our trip with a visit in Toronto. Steve and two of his brothers loaded their cars/trucks with Swedes and luggage. They gave us a multiple choice of activities, excursions and events. Maple Leaf Garden, Hockey Hall Of Fame, CNN Tower, The Aquarium, Waterland….The last day, a trip to Niagara Falls. Magic!
Outstanding hospitality from Steve and his family! An unforgettable visit!
Last time me and all his friends in Ljusne had the joy to meet him, was at the camp here in August 2018.
In 2019 he invited players from here to come and visit. So Sebastian Krantz, Linus Lindberg and Love Lemberg, Edvin Filipovic och Jonathan Jansson were the last ones to enjoy his hospitality and friendship. Sebastian and Linus was supposed to follow Steve to Odense, Denmark where he should have a camp similar to ours. Unfortunate Steve had to cancel that trip as he got sick.
Actually Lennart and I talked about a restart of Summer Hockey with Steve and when I texted him two weeks ago, he was very honored.
Just want you to know that Steve´s mother, Anne, passed away this August at the age of 91.
Our thoughts goes to his daughters Jodi, Jennifer and Aimee and to his brothers Michael, Raymond, Greg and Glenn as well as to their families.
We hope these lines will give a little comfort to them.
Here we put some pictures of Steve visit Ljusne (more will be added)
Steve!
Your friends here and the citizens will remember your visits and personality for ages!
Ljusne, November 7th 2021
Lars-Olov Myhrman
---